Interdyne Corporation has taken pipeline services to the next level since 1973 by providing turn-key services. Interdyne's personnel are cross-trained in Operator Qualification (OQ) and  40-Hour OSHA HAZWOPER, allowing our workers to perform pipeline projects in a wide range of work environments.  Additionally, Interdyne has the following qualifications: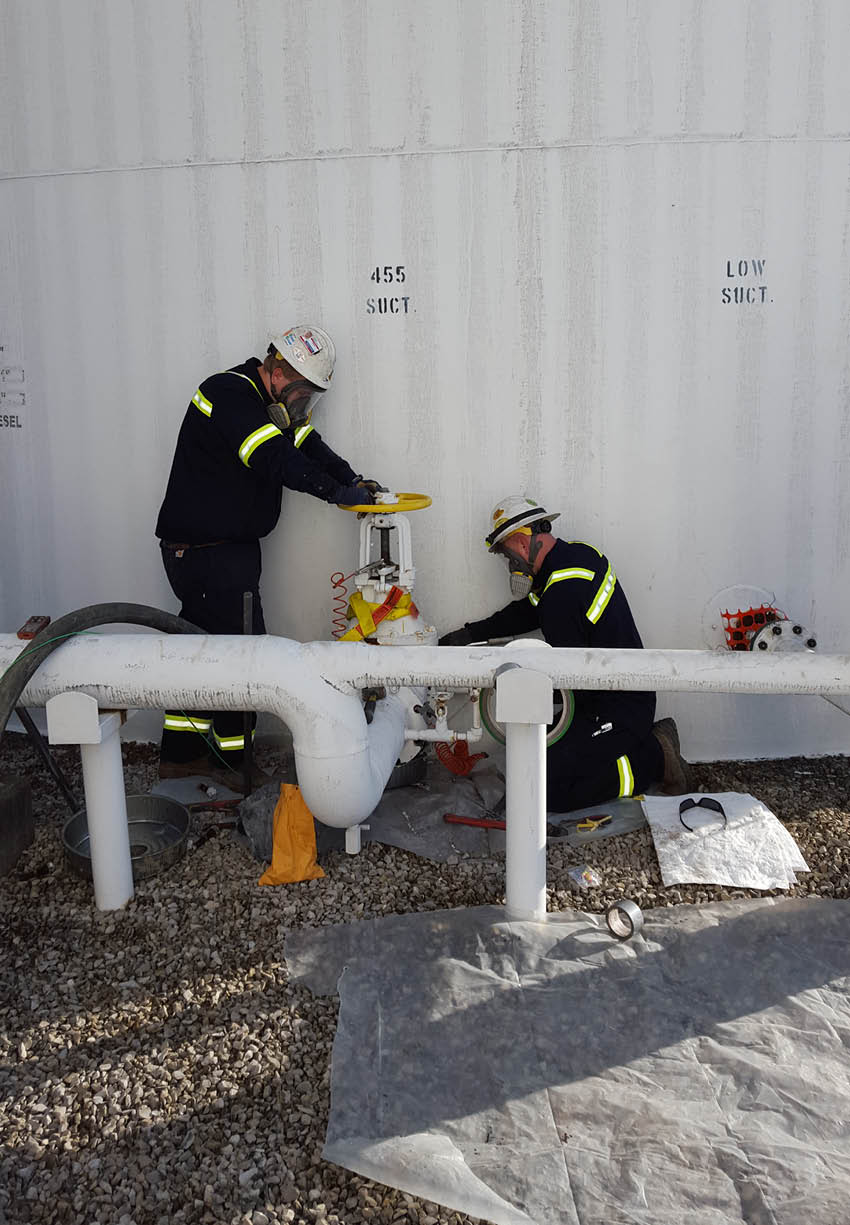 · DOT Drug and Alcohol Program.  Reviewed and approved by the National Compliance Management System (NCMS)
· Company Health & Safety Program. Third Party reviewed and approved by PEC and ISNetworld.
· OSHA 10-Hour Trained for Construction
· First Aid CPR Trained
· Pipeline Maintenance Technician/Operator – OQ Certified
· Confined Space Entry Trained
· A.P.I. Confined Space Entry Supervisor Certified
· Aerial Lift Training
· Respirator Clearance / Fresh Air / SCBA Trained
· Certified Hazardous Confined Space Rescue
· High Angle Rope Rescue Trained
· RCRA Hazardous Waste Trained
· Licensed Asbestos Abatement Contractor
· DOT Licensed Hazardous Materials Transporter – Container and Bulk
· TWIC Clearances (Transportation Worker Identification Credentials)
Interdyne stands ready to respond to your everyday needs and emergency needs with over 100 years of combined experience and expertise.  Supported by Trans Vac, Inc., we provide transportation of recovered materials via vacuum trucks, vacuum tankers, roll-off boxes and vacuum boxes. Interdyne performs the following services while placing the highest premium on safety and protection of the environment:
· Pipeline Drain Up Service  – crude oil, refined products, and LPGs
         · Vacuum Trucks, Containments, Purging
· Isolation Services
         · Valve Removal, Remove/Install Blinds, Lift Truck
· Valve Maintenance Removal/Installation
· Underground Storage Tank (UST) Installation and Removal
· Demolition of Above Ground Storage Tank and Piping
         · Experienced Hydraulic Shear and Oxy-lance Equipment Operators
· Tank Cleaning
         · Petroleum or Chemical, Above/Below Ground
         · Oil/Water Separators
         · Water Blasting Services, Including Cold Cutting up to 40k
· TES Services  – Certified by the American Petroleum Institute
         · For Entries during Cleaning and Sandblasting, Inspection, Maintenance
· Confined Space Rescue Service
         · Including Hazardous and IDLH Entries
· Tank Re-commissioning
         · Re-install Valves and Hatches
         · Perform Drain-up as needed to tie back into system
· Facility General Maintenance Service
         · Building & Grounds Maintenance, General Site Cleanup, Painting, Road Construction, Road Maintenance, Asphalt Repair
         · Drain/Sewer Jetting
         · Drain/Sewer Camera
         · Demolition Services
· Line Locating
· Pipeline Patrol
· Hydro and Standard Excavation Services
         · Including Air-Spade "waterless" hydro-excavating
         · Compact Vehicle fits into tight places
· Pipeline Coating Removal including Asbestos Abatement
· Right-of-Way Maintenance Service – including mowing
· Snow Removal